CycleOps Wind Trainer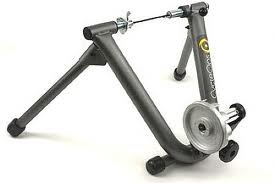 If you already own an outdoor bike, and you want to ride indoors, a bike trainer can be a low cost alternative to an exercise bike.
You simply mount your regular bike on the trainer with the rear tire against the resistance roller
On the CycleOps Wind Indoor Trainer resistance is created by the rear tire spinning a small fan and the harder you pedal, the more resistance you have to overcome. Using air resistance results in a simpler and lower priced design than higher priced units that use fluid resistance.
On the down side, the unit will be noisier and the resistance curve does not simulate real biking as well as these types of bike trainers.
You can use the CycleOps Wind Indoor Trainer with a mountain, road or TT bike and you would want to invest in riser block for the front wheel to keep the bike level (hint, a small piece of 2 by 4 also does the trick)
The CycleOps Wind Indoor Trainer is a low cost solution to riding indoors without buying a separate exercise bike.