Healthrider H35xr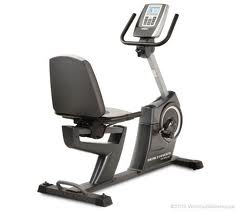 The Healthrider H35xr recumbent exercise bike features an oversized seat that is also adjustable and the frame can support up to 300
The Healthrider H35xr features ergonomically designed racing handles that are designed for user comfort and can be adjusted to suit your arm length.
The H35xr is able to take your workout to a professional level featuring 20 personal workouts and 16 resistance levels.
The H35xr is also iFit compatible for downloading even more workouts which should help you stay motivated longer.The Grafixx display keeps track of your workouts and features quick touch controls.
The HealthRider H35xr features an iPod dock, speakers and a dual grip heart monitor located on the handlebars.
The bike also incorporates HealthRider's Silent Magnetic Resistance system that allows you to adjust resistance without interrupting your workout.
A power adapter is included with this model so there is no need for batteries.
Healthrider offers a 5 year warranty on the frame and 90 days on parts and labor.The Healthrider H35xr is a solid entry level recumbent exercise bike with several better than expected features selling at an attractive price.