Life Core LC1050RBs Recumbent Exercise Bike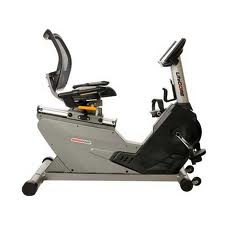 Lifecore argues that the LC1050RBs is the best recumbent exercise bike on the market. Other manufacturers might disagree but it is undeniable that it is packed with quality and features.
The high back mesh seat features 3 reclining positions and has adjustable tilt and side position.Compared to traditional seats, the mesh seat is highly breathable and comfortable.
The Lifecore LC1050RBs is well suited for small spaces, measuring almost a foot shorter than other bikes and with large wheels for easy transport.
The pedals are spaced at 5 inches to reduce the stress on joints.This bike can accommodate riders up to 300 lbs.
The console on the LC1050RBs features a 7 LED window for displaying all necessary information during a workout.There are 12 preset programs with the bike and is able to accommodate 5 different user profiles.
5 different user ID's for separate training programs is a valuable feature if the bike will have several users.
The console supports Polar heart rate programs and gives the user quick key buttons for fast programming.
A magazine rack is within easy reach.
Lifecore Fitness has a 7 year warranty on parts and 1 year on labor for the LC1050RBs.
The Lifecore LC1050RBs is not the cheapest recumbent bike on the market but it is one of the best