Livestrong E-Series Indoor Cycle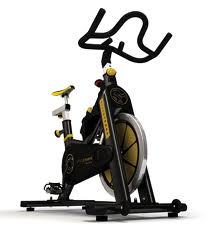 The Livestrong E-Series Indoor Cycle would be equally comfortable in a spin class at a health club and in your home.
The exercise bike starts with a strong steel frame and a very heavy, chrome plated flywheel, ensuring stability and a smooth, quiet experience.
Add an oversized bottom bracket and a crank assembly and carbon cranks and you have an exercise bike that will last a long time.
Unlike many spinning bikes with, the Livestrong indoor cycle has a belt drive that will not only be quiet but also reduce maintenance.
Both the seat and handlebars are adjustable to help you find your optimal position and the pedals accept Shimano SPD clip-ins as well as regular shoes.
The Livestrong E-Series Indoor Cycle comes with a 10 year warranty on the frame, 3 years on handlebars, saddle, brake system and 2 years on the pedals.
You also get 90 days warranty on stuff like the Ipod cable and pedal straps. Very impressive.